Good morning, Mr. Trump.  The Republican Party has systematically damaged the military-readiness and the economic foundations of this once-great country.  Your mission, if you accept it, is to destroy the capacity of the top leaders in the Republican Party, making it a Mission Impossible ever to occupy the White House again.  And, as always if you are caught, Don, Secretary Clinton will disavow you and your team. Good luck, Don.
There you have it, a real Mission Impossible. So far, Don's team has systematically destroyed the Bush Crime family and Marco Rubio from ever occupying the White House. Next up: Paul Ryan.
Ryan's budget plan  represents the most serious threat to US in offering enormous tax cuts for the wealthy; eliminates taxation of capital gains, dividends and interest; and abolishes the corporate income and estate tax. Some versions partially privatize Social Security; privatize Medicare; fund Medicaid through block grants to the states; and eliminate the tax exclusion for employer-sponsored health insurance. Other versions decimate Medicaid and eliminate Obamacare without anything to take its place. The Ryan plan tightens eligibility for Pell grants, drastically reducing the potential beneficiaries while shrinking the amounts available. Ironically, Ryan champions the for-profit colleges which, in many cases, are an expensive consumer fraud paid for by looting Pell grants.
His "plan" slashes spending on transportation, education, housing, health-related research, veterans' assistance, homeland security, the justice system and environmental protection.  It cuts down on food stamps, unemployment insurance and, of course, entitlement programs which can be reformed in far less draconian ways. And virtually all the tax cuts go to the top 1 percent.
Playing the fool on his joker card, Ryan was forced to accept publicly Donald Trump as his party's savior.  This was in spite of Trump having the audacity to show the GOP's cards.  He vocalized the tacit racism of all too many Republican officeholders and made it overt — targeting Muslims, Hispanics and, with barely less subtlety, blacks. He said that free trade agreements betrayed American workers. He stood up against cuts in Social Security and Medicare. He questioned tax cuts for the rich.  He has pretty well trashed their free-trade agenda: to the distress of Chamber of Commerce types. In the process, he has turned the GOP's attack on identity politics into a defense of embattled white folks against the supposed depredations of a multiracial society.
Ryan had refrained from endorsing Trump  IN HIS FUTILE effort to preserve his own political life and, quite likely, running for president. But Ryan could not stay out of harm's way. To pave the way for an endorsement, Ryan pretended to believe that Trump was buying into his serious ideas, facilitating their passage should Trump become president. But in the primaries Trump had kicked his agenda to the curb, and now was treating Ryan to condescension and veiled threats. And in Ryan's own caucus, nervous Republicans were pushing him to back their presumptive nominee.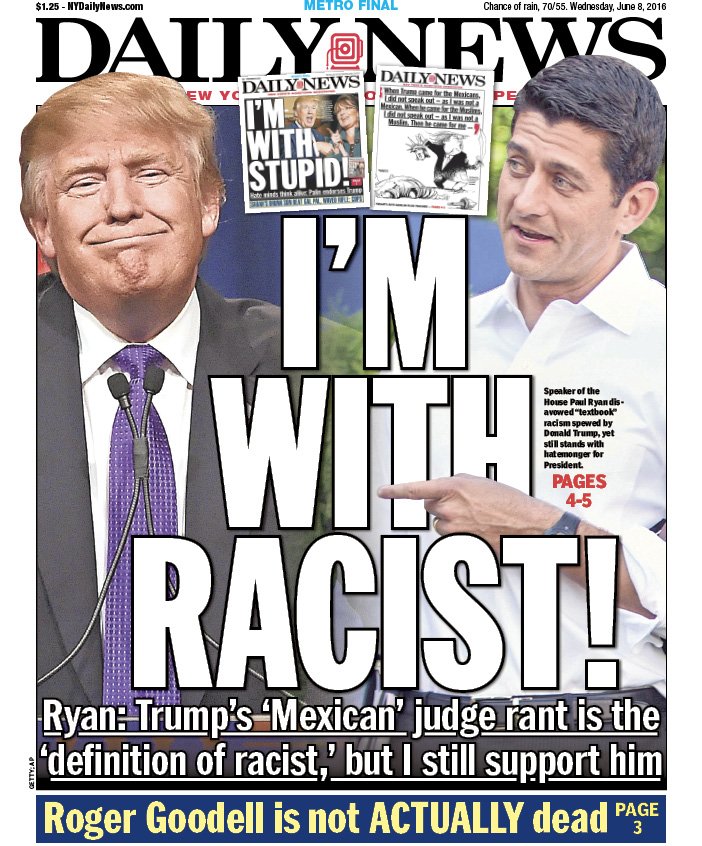 I'm with RACIST:  Confronted with Trump's Muslim Hysteria,  Ryan was compelled to denounce Trump's virulence as "the textbook definition of a racist comment." And yet he reaffirmed his support for Trump — because, after all, he would be better than Hillary Clinton.  But then Trump reacted to the slaughter perpetrated by a demented ISIS sympathizer at a gay nightclub in Orlando with the odious demagoguery which is his trademark, doubling down on his call for a ban on all Muslims from abroad, asserting that American Muslims at large "know what's going on" regarding terrorism, and congratulating himself on his supposed prescience in identifying these threats. He then topped this dangerous and irresponsible scapegoating — so damaging to our national security and national fabric — by implying that President Obama was complicit in, or at least tolerant of, terrorist violence against Americans. With every repugnant utterance from Trump, Paul Ryan's chances for president  were toast.
America Shrugged: Ryan is a politician caught between his rejected Ayn Rand aetheist-bullshit ideology  and the racist pseudo-populism of the Great Exaggerator who emerged from the political and moral void he and his party helped create.  Trump, of course, will lose. But he will leave behind a Republican Titanic, headed for an electoral iceberg which will shatter the party for years to come and the party's would-be savior, President Paul Ryan. 
Well done, Agent Trump.
As that other Mission Impossible Double Agent George W. Bush proclaimed: 
IMPOSSIBLE MISSION ACCOMPLISHED.